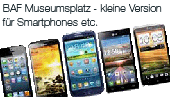 Kurzinfo (short info):
[Calendar JS]
Welcome to the BAF contemporary art group

Willkommen auf dem neuen BAF Museumsplatz

● Altes Museum (Old Museum)
● Neue Galerie (New Gallery)
● dünkel
● Kontakt (contact)

● mehr... (more...)


● BAF Start


© by BAF 2©18...
Webprogrammierung, Bildbearbeitung, Design by insel a.k.a. holly D

insel, Werke bis (Works up to) 2000, Saal (hall)1-7
insel, Werke ab (Works since) 2001 (6 Räume/ Rooms)
dünkels Besenkammer (dünkel Painting etc.)
email an (to)..., Gästebuch (Guestbook), Kontaktformular
(contactform)
externe Links - L. Pearsal, Pluto, Erik Schiemann usw. (etc.),
interne - Eduard of Rossak, insel Vita, Lyrikecke, Downloads

diese Seite (this site)
Infos
Dieser Text wird nicht angezeigt.
Da eine externe Datei verwendet wird / Ajax aktiv